Return to Headlines
Brandywine Springs Middle School girls Attend STEM Career Recruitment Event
Brandywine Springs Middle School girls Attend STEM Career Recruitment Event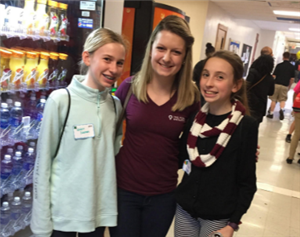 In a 2016 study by the National Science Board, 29 percent of women in the workforce are in STEM careers. Within that 29 percent, 15 percent are engineers and 25 percent are computer scientists or mathematicians. On Saturday February 25, 2017, over 100 middle school girls, including several from Brandywine Springs, gathered to learn about STEM career fields and learn from the women who already have careers within the STEM field.
A student from Brandywine Springs stated, "The event teaches young girls about the jobs and importance of engineers. It teaches girls how many opportunities are in engineering."
Having this opportunity in middle school can shape the coursework that girls will need to take in high school, college and post graduate work to set themselves above the field of candidates when they enter the future STEM workforce. It is important for adolescents to have exposure to the role models in STEM fields to help shape the decisions they make for future careers. It is exciting to have an opportunity like this that exposes STEM careers to the potential workforce of tomorrow. According to one student who attended the event, "
I don't think people realize what engineers actually do. This event is a good representation of connecting math and science in a cool way." Hopefully, events like this can influence more female students to enter into STEM careers that help make our future lives and lifestyles more fulfilling.