Return to Headlines
Opportunity Funding initiative seeks to boost students' chances of success
Opportunity Funding initiative seeks to boost students' chances of success
Published by WDEL Feb 19, 2020 at 4:41 pm
At Forest Oak Elementary School in the Red Clay School District, about 41 percent of students are still learning English to some degree.
Forest Oak, like many schools across the state, is looking to help English-learning students, those from families affected by poverty and others who may face challenges keep up with the rest of the class.
The first year of Delaware's Opportunity Funding program provided a total of $25 million to schools statewide. EL teachers and a paraprofessional are on the job at Forest Oak thanks to that funding.
Governor John Carney visited the school Wednesday as part of a statewide tour of schools up and down the state. He is hoping to allocate $25 million again in year two of the three-year initiative.
According to Red Clay School District Superintendent Dorrell Green, who chairs a committee that considers Opportunity Fund proposals, it has been used for programs beyond those related to learning English.
"We can use the Opportunity Fund to meet the mental health and social - emotional learning needs of our students - and additional reading specialists as we look to grow and meet proficiency rates throughout the schools," Green said.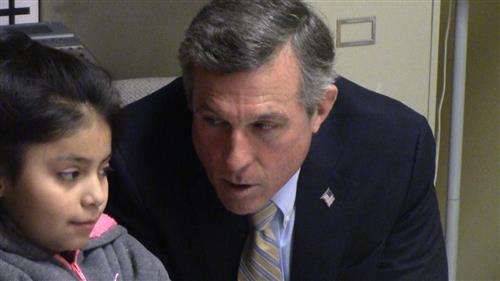 "The purpose of all of this is to make sure that all of our children, no matter where they come from, no matter what language they speak as a first language, can meet the reading proficiency standard at third grade," Carney said.
Carney added that schools and districts are utilizing Opportunity Funding dollars for pre-K and pre-school programs as well as after-school programs.
"We support each student based on their individual needs, and also collectively I think the school does a wonderful job of holistically not only meeting the academic but the social -emotional learning needs of all of our children here at Forest Oak," Green said.
Remarkable progress can come within a relatively short time, according to Forest Oak Elementary School Principal Erin Necastro.
"When we get them in kindergarten, by mid-year they are speaking English and learning the academics," Necastro said. "They do a phenomenal job."