Return to Headlines
Wilmington University Cheerleaders Kick-Off "I Love to Read" Month at Richey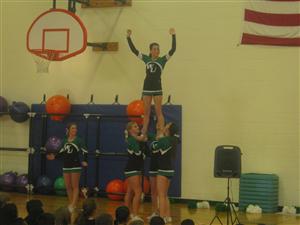 Cheerleader from Wilmington University made a visit to Richey for our annual "I Love to Read" kick-off. All students from grades K-5 assembled into the gymnasium for the presentation. This was also our second Color War of the school year so students wore their grade level colors with first grade having the highest percentage of students and winning the Color War!
The cheerleaders and Wilmington University's mascot, Wiley D. Wildcat, performed cheers for the students and then chose students to help perform their READ cheer! The cheerleaders and mascot also acted out the book, Practice Makes Perfect for Rotten Ralph, for the students. After the performance, the cheerleaders visited various classrooms to read a book to the class.
It was a great kick-off to Richey's "I Love to Read" month long celebration!!