Return to Headlines
Skyline student places third in district-wide competition
Seventh-grader Jalil Gibbs placed 3rd at the District-Level 'Project Soapbox' competition. Congratulations, Jalil!
Olivia Ciavarelli also was in the top ten.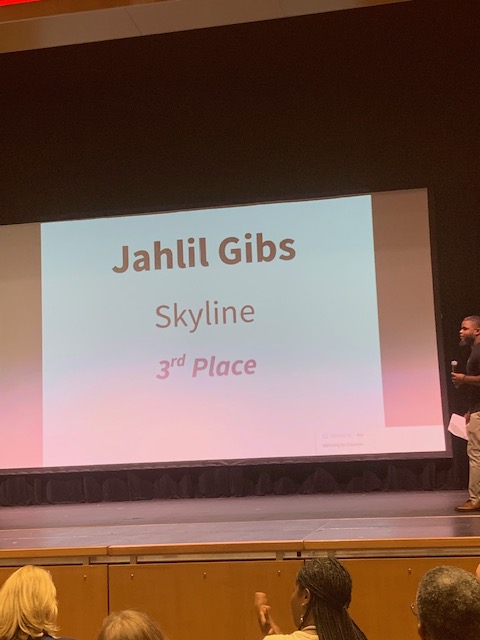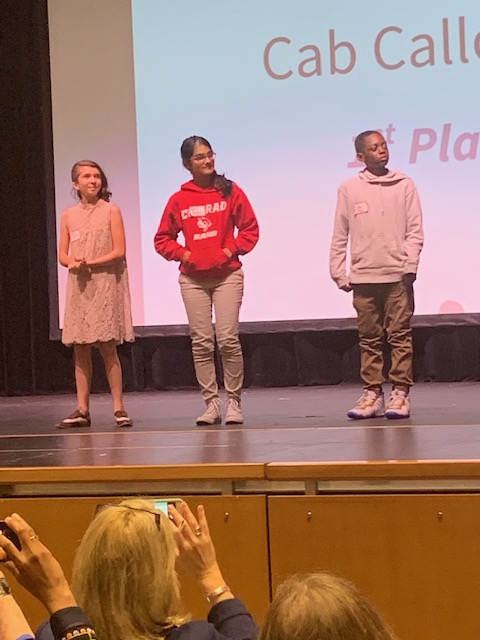 Project Soapbox is a National public speaking competition facilitated by Mikva Challenge that calls young people to speak out on issues that affect them and their communities. These powerful speeches have lasting, transformative impacts on classrooms, schools, and communities.
- A soapbox speech is about an issue that the student identifies, not an assigned topic.
- It includes relevant research and evidence on the issue.
- It addresses a specific audience.
- It includes a call to action.
After giving speeches at the classroom level—all of Skyline's 7th grade students participated--17 finalists were then selected to give their speeches in a school-level competition. After giving their speeches in front of judges, which included members of the RCCSD community, 8 students were then selected to compete in the district-level competition, which was held at Cab Calloway School of the Arts on Tuesday, May 28th.
At Cab Calloway, a field of roughly 65 RCCSD middle school students competed in 4 break-out rooms, where they were judged by members of the community, including two State Senators, three State Representatives, two judges, business leaders, representatives from the non-profit sector, and several other political activists from the Wilmington community.
After the students were scored on their speeches in the break out rooms, Olivia Ciavarelli and Jahlil Gibbs were selected into the overall top ten from the total field. Olivia and Jahlil gave their speeches in the auditorium in front of all students, teachers, members of RCCSD leadership (including Superintendent Green), and a panel of roughly 15 judges.
After the ten speeches concluded, it was judged that Jahlil gave the third best speech of the day.
At the classroom-level at Skyline, students worked on their speeches with the following teachers, who deserve recognition: Lindsey Bulla, Becky Furilla, Tracey Groff, Mike Morris, and Brian Wood.