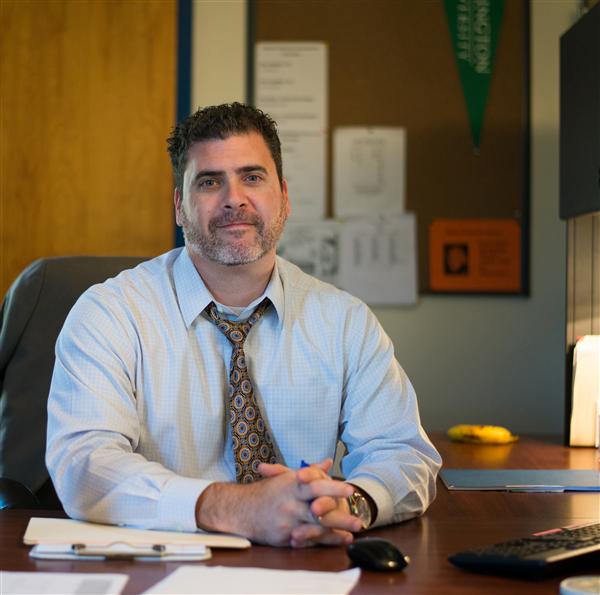 Principal's Message
To the Alexis I. DuPont High School Community:

I would like to take this opportunity to welcome you to the 2018-2019 school year; another year filled with promise and high expectations! As your Principal, I couldn't be more proud to be a part of this exceptional school community. Successes of the past have paved the way for a bright and promising future. To say that we are proud of our history of success would be an understatement. But we will not be satisfied with living in the past. We will continue to implement a rigorous curriculum in a positive and productive school environment while customizing our programing to fit the ever changing needs of our students. Additionally, I'm very excited to welcome the fourth cohort of students to the Early College Academy; a program designed exclusively for AIHS in partnership with Wilmington University. Last year we implemented The Academy of Finance; a small learning community that offers our students an opportunity to study accounting, international trade, leadership, and the use of technology in preparing for college and the financial services industry. The Academy of Finance also allows students to earn college credit in the high school setting. This year, I'm very excited to share that we are once again introducing new course offerings to our students. Our new Business Information and Technology pathway, will allow students to further hone their financial literacy skills while working with industry standard management software and programs. Also new to our course catalog is our K-12 Teacher Academy; a pathway designed for aspiring educators or child caregivers. It goes without saying, the comprehensive high school is alive and well at AI! There is something for everyone. That said, we will continue to: improve upon our technology integration, make programming enhancements and craft strategic plans designed to support the needs of our students.

Additionally, I'd like to remind our school community of the recent change to school start times previously adopted by Red Clay. For us in the high school setting this means our students will need to be seated in their first period class by 7:25am. Students may begin entering the building at 7:15am. As a result of this earlier start, our afternoon dismissal has changed as well. Our new dismissal time is 2:15pm. For those of you affected by bus related issues in previous years, this earlier start time aims to alleviate those headaches.

Here at Alexis I. duPont High School we have found the formula for success to be hardworking, determined students coupled with parental involvement. We cannot do this alone and we need your help! We expect our parents and guardians to get involved and stay involved and I eagerly anticipate this tradition of support to continue. Parental involvement is the difference – together, our students can accomplish great things! I encourage all of our community members to join our PTSA, Tiger Boosters, Band Boosters or Choir Boosters. Your involvement makes a difference!

It is my personal goal and professional obligation to provide a climate that promotes high standards and respect. Students and staff alike are expected to abide by the rules and policies set forth by the Red Clay Consolidated School District and Alexis I. duPont High School. Let's all work together to make this an unforgettable year for our students. The road ahead is ready to travel. Undoubtedly, it will not be easy but it will be traveled with good company. To steal a slogan from our marching band, "we have but only one goal and that is to be the best! What else is there?" Regardless of what our journey has in store for us we must always remember one thing….

You Cannot Hide That Tiger Pride!

Sincerely,

Kevin Palladinetti

Principal

Alexis I duPont High

Stay connected!

Follow the AIHS Admin team on twitter!

Mr. Palladinetti - @AIHSPrincipal
Mr. Cresci - @CresciMarty
Dr. Raymond - @LeeIRaymond

For text alerts:

Enter this number "81010"
Text this message "@aihsinfo"