Return to Headlines
Red Clay Names Matthew Marion 2022 Teacher of the Year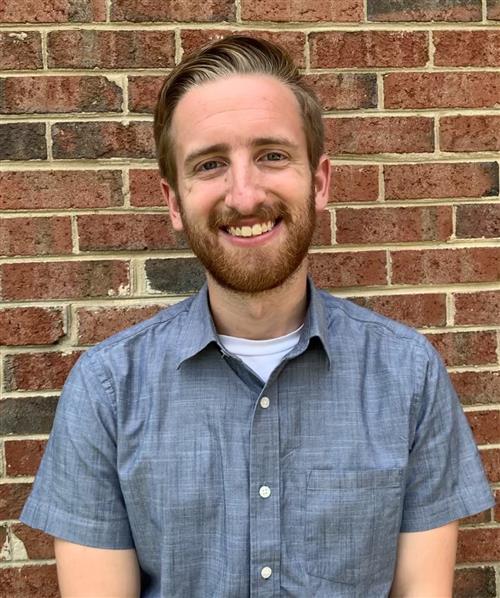 Red Clay Names Matthew Marion 2022 Teacher of the Year
Shayla Perkins Accepts New Opportunity Out of State
Red Clay is pleased to announce that Matthew Marion is the 2022 District Teacher of the Year! Marion accepted this honor after Shayla Perkins announced that she will take a new career opportunity in another state at the end of the 2020-21 school year.
"It is an incredible honor to receive this recognition," said Marion. "I have big shoes to fill following Ms. Perkins and—before her—Mrs. Stock, and I am thrilled to have the opportunity to represent Red Clay schools and the hundreds of educators in this great district."
Marion is in his eighth year teaching music at Linden Hill Elementary. He began teaching at Linden Hill after graduating from the University of Delaware with a Bachelor of Music in Music Education in 2013. With a lifelong passion for music, Marion enjoys bringing that love for music to his school community. In addition to teaching music classes to students in kindergarten through fifth grade, Marion also teaches chorus, directs the musical theater program, and organizes frequent performances across the community.
Marion is always looking for ways to foster a love for music in his students. Upon entering the music room, you can expect to be greeted with the sound of ukuleles, drums, pianos, and other instruments. In 2015, Marion launched Linden Hill's first musical theater program. "Through this program, countless students have flourished with this new opportunity to be creative, take on leadership roles, and step out of their comfort zones," said Melissa Brady, principal of Linden Hill Elementary School.
Marion completed a Master of Education degree in School Leadership in 2018. He can be found putting these skills to use as a member of the School Leadership Team, coordinating the student-run morning announcements TV program, serving as the school's technology liaison, and sitting on several school committees. He also supports district-level music initiatives by serving on the Red Clay Music Curriculum Council and coordinating the Red Clay Elementary Choral Festival.
"We are thrilled to recognize Mr. Marion as our new Teacher of the Year and we look forward to celebrating his success as he represents our district over the next year," said Superintendent Dorrell Green. "We also wish Ms. Perkins all the best as she continues on her professional journey and we are grateful for the tremendous impact she had on students, families and colleagues during her time in Red Clay."
Congratulations, Mr. Marion, and best wishes to you, Ms. Perkins!